[Previous Page]
[Album]
14 April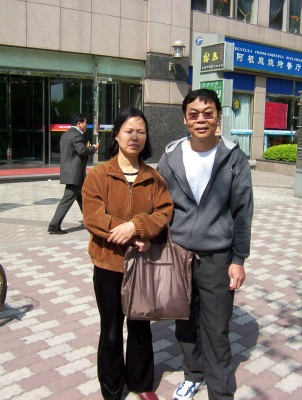 I took the morning easy. I find that the food is better by not eating too early, wait a while so that the number of people being served increases and the food is fresher.
I managed to find all the right bus stops today and reduced the walking to a minimum. When I got off the bus near the trade fair I was spoken to by a Chinese man with his wife, Gong Jian & Xiao (pictured). He spoke English and was from Vancouver. He was quite surprised to hear that I was from Kelowna. We spoke for quite a while and ended up walking over to the Shanghai Mart together as that was also their destination. He gave me his brother's name and phone number in Beijing to contact during my visit there.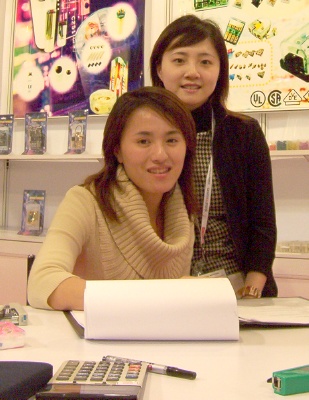 I spoke with too many people to name today, but I did take a picture of Flora Chine & Vida Chen following an interesting conversation.
I wanted some linguini for supper but the restaurant didn't have it available so I had Spaghetti Bolonese.
Ken Emobo, a man I met yesterday called me this evening so I offered to make a reservation at this hotel for him for his return visit 19 - 23 April. They didn't have rooms available then but I was able to make a reservation at another nearby Home Inn for him and have arranged to meet him tomorrow noon at the trade show to give him the address and location. The only information I have is in Chinese so I know no other way to let him know where it is.
One thing I forgot to mention previously; it takes about 2 days to dry laundry in a hotel room here in Shanghai. I guess the humidity level is much higher than Kelowna.