The First COVID-19 Pandemic Year 2020

& coding innovation for my webmaster work
Weather
Kelowna

|

Vancouver

|

London
---
COVID-19 Dreaming, 2 July
Interspersed coding and dreaming of possibile travel


2020 Fall Trip


Meander to Paris, Istanbul, Georgia, Poland, Lithuania, Latvia and Estonia
---
Kelowna, 23 June
I have been active with my website development most of the time since the onslaught of the COVID-19 pandemic.
I have been keeping the websites for the Kelowna and Vernon rock clubs, the GMFC, the Prineville and Madras Pow Wows, the Okanagan Rock & Gem Show, China Rail mapping and this site updated with the new technology I'm inventing and implementing as my imagination, learning and skills develop.
I'm hoping to be successful with the new methods for the railway mapping system now under development. If it works all elements will be displayed in one browser tab and processes will be faster and more efficient.
This picture shows a young buck resting in our back yard a couple of days ago. The deer seem to like coming here occasionally to feed and rest.
---
Kelowna, 11 June
I have finally installed the siding on the shed I built in 2012.
A rainbow appeared over the valley in front of our home this evening.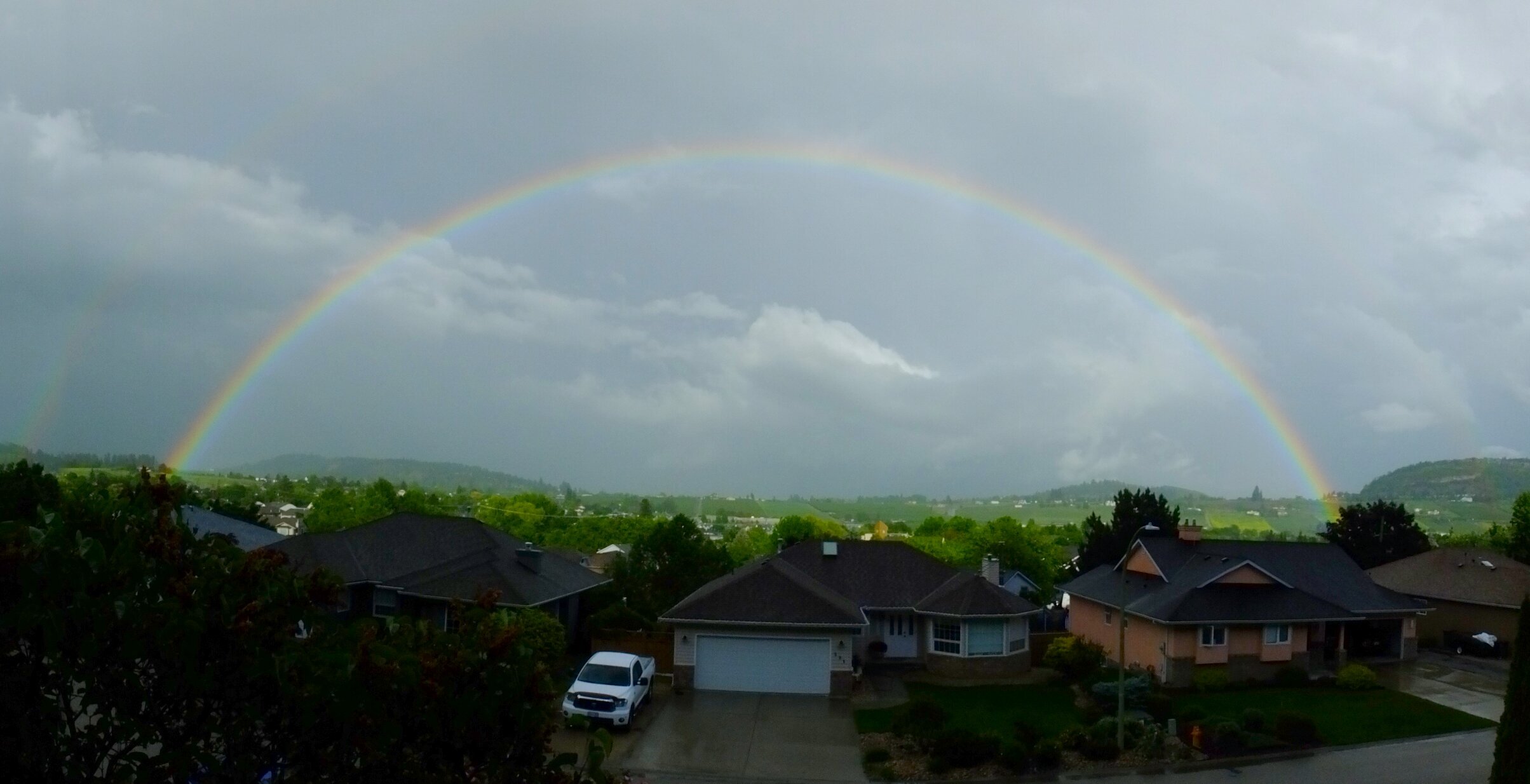 ---
Booked for 13 April - 12 May
Working on data processing & display


Cancelled 2020 Spring Trip


calendar shows plans made with most accommodation removed




Meander to Paris, Tblisi, Baku, Uzbekistan and Riga
---
Kelowna, 23 March
Just a little time before my 76th birthday and I'm alone at home maintaining social isolation due to the COVID-19 pandemic.
I see the only way to eliminate this health threat is to prevent spread. If the spread is interrupted for a suitable amount of time it will die out. Infected people will become well, or unfortunately die, and residual viruses without a host will also succumb.
The challenge then will be to prevent its spread from the wild.
Likely a vaccine will eventually be developed but this event should be resolved before that happens.
I have declined the September invitation to North Korea to participate in the Pyongyang Science and Technology Book Fair and recommended that the mass games preparations be suspended to prevent the dangerous spread of this disease. I expressed my hope to visit on a more auspicious occasion.
---
Kelowna, 25 February
I have spent a lot of this new year working on the development of new code for my websites.
The weather features are now all served from one location for all clubs and organizations to reduce the load request from the source of data.
I have also developed new code and methods for my travel calendars that should reduce the provision time for future trips.
The calendars provide flight status around the time of flights, weather for selected locations and other links provide accommodation information, how to get to the locations, etc.
---