[Previous Page]
[Album]
5 April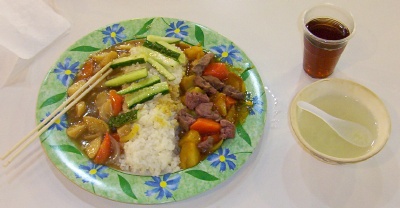 I spent time in my room again today trying to catch up on my homework. I then went out to eat at a place I noticed Sunday evening while I was shopping for some snacks to take back to my hotel.
It is a place that provides food that is very palatable to my taste. I will return often. The meal in the picture cost 12¥ (less than C$2). It is curried beef with potatoes and gravy and I like it very much.
I spent time sightseeing and taking pictures plus some shopping. I got a pair of shoes that should work for golf.
I went to my appointment with Annouk at the Canadian Consulate and received some very good advice on matters that should be of great interest for my future plans in China.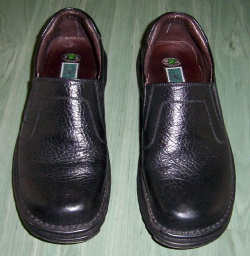 I had three more items that would help in my daily activities. A small brief case, a steamer to remove wrinkles from my clothes and more memory for my camera so I can take more pictures each day. I got all three but now I have spent most of the travellers cheques I came with. I'll soon be using my credit card as planned but realize now that travellers cheques in Canadian funds is the best method of exchange. The rate at the Bank of China has been very good. The effective rate including the transaction fee was 6.24193. This is close to 1% less than the interbank rate for yesterday which was about 6.31142.
My feet improved yesterday. The new shoes are not elegant but they are comfortable.