[Previous Page]
[Album]
8 April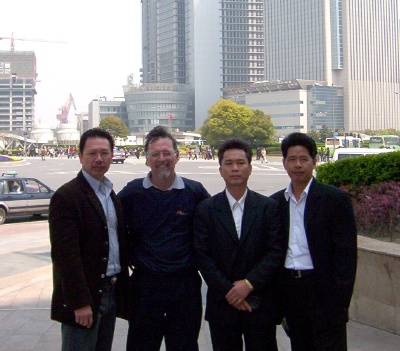 I took my first bus ride today. I asked at the front desk which bus would take me to the Oriental Pearl Tower (I wanted to go to eat and shop at the Lotus Supercenter). I was told the fare would be 2¥ but it was only 1.
There was little difficulty getting on the right bus and paying the fare but the ride was quite rough. This was the third motor vehicle ride in Shanghai and they all have me wondering how the drivers have learned to shift gears. They all shift to keep the engine at the lowest possible operating RPM. It must be very hard on the engines not to mention the discomfort to the passengers. The trip was a slow meandering journey through Pudong and we finally arrived at my destination. It is quicker and more comfortable to walk the kilometer and take the subway.
I had my main meal for the day and on my way out to take the subway to Central Henan Rd. I met three businessmen from Cambodia; Oknha Kith Thieng, Vice-Chairman & MD and his Executive Assistant, Marith Chhor, of the Royal Group and Lim Bun Rith, President and CEO, Advance Trading Company. They were exceptionally friendly, courteous and well spoken. They told me they were in Shanghai to sign some business papers. They encouraged me to look into future prospects of also doing business with Cambodia. If they are an example of Cambodian businessmen than I must agree that it is worth serious consideration.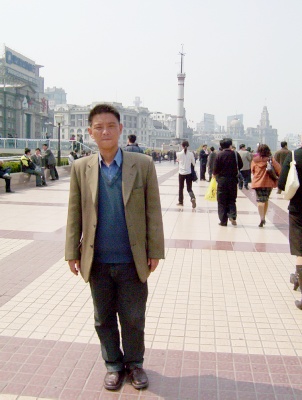 I then went for a walk along the riverfront by the Bund. I met Zhang Qing Gong and spent quite a while walking and talking with him. He's married and has a son. He said he worked in a garment factory had the afternoon off. He liked to talk Cockney like an Englishman. His English was quite good. We went to the Old Town Bazaar for sightseeing and had tea.
I visited the Temple there and felt like the religious experience of most was purchased there. As with most places I go in Shanghai the people in the know are in places inaccessible to me.
As I was wandering around Shanghai this day I was reminded of the poem of The Ancient Mariner with a twist. People, people everywhere and not a conversation to be had.
While I was strolling along Nanjing Pedestrian Street I was accosted by two young females. They invited me to talk english and have coffee with them. As I really wanted to find out more about this particular type of approach, I agreed and managed to negotiate the visit to McDonalds with a limited cost to me of 25¥ (They tried to have me agree to paying 100 but I remained firm at 25). While the more outspoken one was ordering food she persuaded me to add 2 more so that she could buy an apple pie. Once they got the food all pretense of talking english was forgotten and they left me at the counter and went off to eat. I sat near them and had my coffee and realized that the whole process was nothing more than an elaborate form of begging. They finished eating and the only english they spoke was goodbye.
I saw two stars in the sky on my walk from the subway to my hotel this evening.
9 April
I was accosted again by a very good looking woman on the street to talk and have coffee in a comfortable place. I was sitting in a pleasant spot and invited her to sit there and we could talk. She tried to persuade me to go to a restaurant where it would be much more comfortable and when I continued to invite her to sit there on the bench, not to my surprise, she gave up and went away. It's only the money they are after.
I met a few nice people as I drifted over to the People's Park to enjoy a more relaxed atmosphere. For the first time I encountered overt antagonism towards my use of English. I tried to communicate with some young people making a video in the park. The girl I spoke to retorted that she spoke Chinese. I said I knew that and meant no offence and her response in english showed that she understood the language but didn't want to be friendly in any way with me not speaking Chinese.
I met two elderly gentlemen with whom I had interesting conversations, one was Richard Ho, an Interpreter. I also meet and talk with quite a few people that are not written about in my daily journal. I find that many parents with children like to have their children meet me and spend time near me, saying hello and goodbye.
It looks to me like there is a large number of unoccupied apartments and office spaces in the newly built up areas. I wonder whether it is due to the rapid rate of building and the slower rate of available wealth in the population to meet the cost of the new premises?