[Previous Page]
[Album]
23 March
Lindea (my wife) and I left Kelowna after a morning of trying to ensure the completion of income tax returns, business accounting and billing and visiting My mother Bessie, who was awake following a few days in a stroke induced coma. It is likely that I may never see her again in this world, so I am happy that we were able to say goodbye and she was aware of where I was going.
The trip to Vancouver was uneventful. We stayed overnight with Bonnie, Dave and Sylvie.
24-25 March
I discovered that the suit Lindea and I had spent so much time and consideration buying had been left at home. I said my goodbyes and we went to the airport for the flight to Shanghai via Tokyo.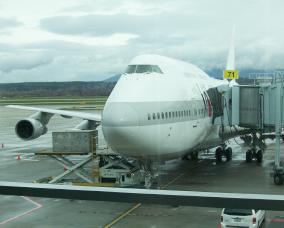 During the flight I mentioned to the flight attendant that I would miss much of my 60th birthday as we cross the International Date Line and later she came by with Champagne for me and the other 2 passengers in the adjacent seats. Since I don't drink alcohol, I gave mine to the girl beside me. Apparently neither of the ladies beside me drank much either and most of the Champagne got thrown away. The flight attendant decided to give me something else and later returned with a cockpit photo signed by herself , the Captain, Co-pilot and Flight Engineer along with small playing cards and a model airplane (later another attendant brought another pack of cards and a tiny plane).
I found a wireless hotspot computer at Narita Airport during the wait between flights and after a few moments of confusion found out enough to use it in English to send a few emails and order a domain name for a client.
I met Alf on the flight to Shanghai and we got along well so we agreed to share a taxi into the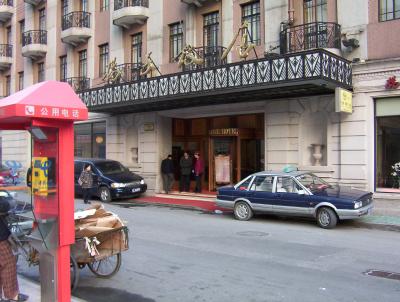 city where I would get a room in the same hotel as he. When we arrived at the Yangtze Hotel we were told there were no other rooms so Alf invited me to share his for one night.
26 March
In the morning we went for an early walk to the riverfront where kites were flying and had breakfast during our return. I changed travellers cheques to cash at the hotel (much better rate than in Canada) and paid him for the room when we got back. He introduced me to his business friends, Zhu Ming and a lady. When he told them that I was looking for a lower cost hotel. They phoned and made a reservation for me at the Yuping and then gave me a ride there where I registered for a week. I find that I like it better than the Yangtze and it is only about half the cost and includes a nice buffet breakfast and has a safe in the room which I find convenient for my passport and extra currency.
Yuping Hotel
448 Zun Yi Road
Shanghai, China
200051
Tel: 62333448 x 1602
The traffic in Shanghai is quite remarkable. Apparently traffic signals are only suggestions. Many drivers take whatever opening is available and I was surprised to see that the most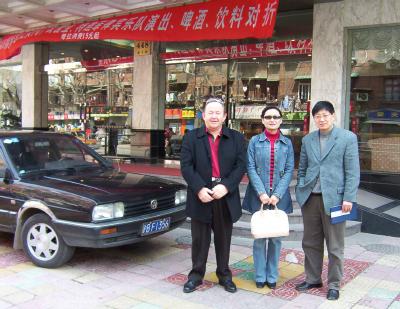 expedient route through intersections was by way of other lanes and across the flow of traffic. Often a driver will go out into the oncoming lane around many vehicles to turn right. It happens so much that the police could never keep up with stopping offenders so I guess they ignore it.
I spent most of the day wandering throughout the area of the hotel. The international consulate area is nearby and I saw that the Japanese consulate was roped off and surrounded by the Chinese military, many onlookers and police. I was told not to take pictures by a soldier (I think it was because it was the only English he knew).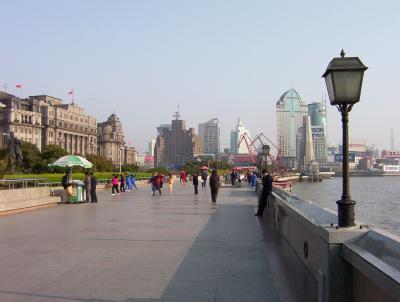 I saw only one occidental for the rest of the day and even when I am the only one visible, I feel very much at home. I find many people stare at me and many of the women say "Hello" as I go by but it is a hello unworthy of reply.
Since I left my suit at home I bought a new one along with a nice coat. Alf said it looked very good and the prices were irresistible. My feet got sore.
27 March
I walked to the East China University of Politics and Law. I was permitted entry to the grounds and spent more than an hour looking the placeover. I met a very nice young man who was planning to join the army as an officer following this his final year. I lost the phone number he gave me but would be interested in hearing from him again. He has my card.
I took the Metro down to the Yangtze Hotel to let Alf know that I could meet him at 6 PM then walked to the Bund. Went through the Bund Museum on the water front. The past of Shanghai has had much political oppression and it has taken a lot of effort and bloodshed to obtain the freedom it now enjoys. The future looks very bright and there is an exceptional amount of energy being focused on development.
I took the tourist tunnel across to Pudong and back. I should have gone only one way so that I could take the Metro back and saved walking back to the tunnel after exploring the area of the Oriental Pearl Tower.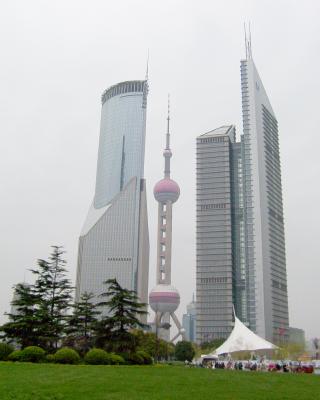 There are incredible numbers of new skyscrapers completed and going up in the area.
I met Alf again for the evening. We went walking to look for a CD case which we didn't find but we were offered help by 2 beautiful young girls. They too, were unsuccessful with finding a CD case and also didn't find that it was rewarding to stay with us so they said goodbye and started chatting with some younger men as they left. We found a nice restaurant near the Yangtze Hotel where we tried to order supper. Within a few minutes a lady arrived to help with the language. We found out that she was the sister of the owner who called her on a cell phone to come and help (many people have cell phones here). They both sat with us during the meal and made the evening interesting with stories for family and business plans for the future. I wish them the greatest good fortune.
I discovered that my sore foot was due to a large blister on the bottom of my foot just back of my second toe.