⏬ Show Observations and Elucidations
⏫ Hide Observations and Elucidations
There is no quantitative solution for an unjust economic system!
It is distressing to see journalists presenting stories where ideals are masked as political positions
rather than recognizing inherent values and truths.
⏬ I'm thinking the term "Hot Stock Market" … [click for more]
⏬ The media coverage presents economic conditions as relative to monetary and trade activities … [click for more]
⏬ I am watching "Dialogue" on CCTVnews … [click for more]
⏬ While listening to the wrap-up news on the G20 Summit … [click for more]
⏬ True democracy is not merely an institutional method of decision making, … [click for more]
⏬ There are perplexing social positions, attitudes and relationships … [click for more]
⏬ I have noticed much of the analysis of economics focuses on growth … [click for more]
⏬ Consider the light of the sun; … [click for more]
⏬ Justice cannot be effected with … [click for more]
⏬ Re-imagining the home lighting system. … [click for more]
⏬ The economy is a social reality. … [click for more]
⏬ Taxes on carbon, energy, and needs of life; … [click for more]
⏬ "…the happiness and greatness, "… [click for more]
⏬ "The man of science is perceiving and endowed with vision…" … [click for more]
⏬ … we are all part of the problem … [click for more]
⏬ View a vibrant community life from two perspectives.[click for more]
---
Another complete double rainbow taken 6:22pm 08 July 2016
View from home, a complete double rainbow taken 6:29pm 28 May 2014
---
12 October, Dunhuang, Gansu, China
One of the crystal specimens I bought for Lindea's collection.
---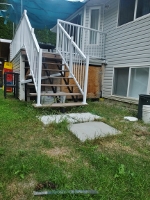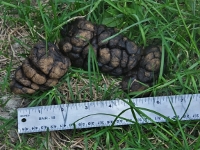 31 August, Kelowna
Lindea found animal scat in our back yard near the steps to the deck. Her Internet research indicates it is from a bear.
This is the first indication we have seen for bears in the forest behind our house.
---
---
26 August, Kelowna
I finally finished installing the LEDs on Lindea's 14" rock saw. The first two attempts failed with blown LEDs. I figure the voltage was a little too high so I got new power supplies and buck converters from China to control the power. While I was at it I also got some toggle switches to make the operation more compact and convenient. I also set up a power system at my bench with voltage displays and a controller for setting up new circuits.
---
21 August, Kelowna
A doe gazes at me from behind a tree as it browses fresh leaves in our back yard
---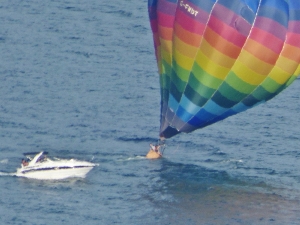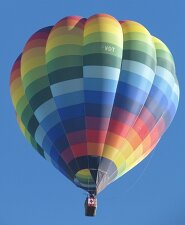 A balloon flies over our house and later lands in Okanagan Lake when it encounters unfavorable winds and runs out of fuel
---
---
13 August, Kelowna
Colourful sunset clouds over distant mountains viewed from home and a close-up of the moon at the same time
---
8 July, Kelowna
A chipmunk inspects the retaining wall and fence repairs by our home
---
10 May, Huangshan
I'm not sure when or if I will catch up on posting to this site. My recent travels in China and Japan provided me with much to organize and post.
In the mean time here are some pictures of Liyang, Tunxi District, Huangshan city and Huangshan (Yellow Mt.).
I'm staying in the comfortable and friendly Daylight International Youth Hostel. It's new and will likely be a favorite place to stay for many travellers in the years to come.
---
22 April, Shanghai
Stopping over for 2 days in Shanghai then 6 days in Nanjing.
---
15-17 April, Mattawa, Washington
Rockhounding trip to Saddle Mountain, Washington with the All Rockhounds Pow-Wow Club of America
---
12 April, Kelowna
Today I received an email invitation from the Organizing Committee of Pyongyang International Science and Technology Book Fair to continue my work building relations with the DPRK and attend the the 10th Pyongyang International Science and Technology Book Fair to be held from 26th to 28th of September.
Now to find ways, people and contribution of materials to be as effective as possible. Is there some way you can help? Would you like to come along?
---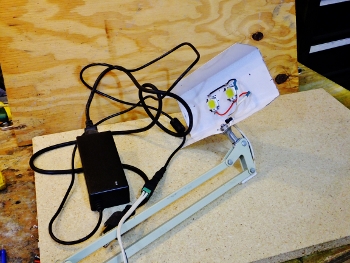 2 April, Kelowna
I have progressed in my utilization of LEDs around home. The latest is adding to the lighting of my workbench and inside Lindea's 14" rock saw so that she can easily see the operation.
I'm hoping the parts and power control devices that I have ordered from China will arrive, but they are late. I'm hoping government barriers to such purchases have not blocked them from entry into Canada. Wouldn't it be nice to have a global economic system that would function without permitting vested interests to use government power to prevent human beings from acquiring their needs from whatever source is best for them?
---
---
18 March, Kelowna
The past 24 hours have been challenging around home. Last night while I was working on Lindea's computer I heard the sound of leaking water. I found that there was a pin hole in the polybutylene pipe going into the hot water tank. There was water all over the furnace, tank and room. most of it was running down the floor drain but a little seeped under the wall into the adjoining room. (Hopefully this isn't indicative of extensive failure of our plumbing system.)
Today I went and got the parts to replace the leaking section of pipe with copper.
Once that was done Lindea went to pressure wash some of her rocks and found that the wand was leaking. I found that there are rubber O-ring seals that need to be replaced.
Next she asked me to check why her rotating rock tumbler wasn't working. I found that the drive belt was too loose and the spindle bearings are stiff. Now I need to refurbish it.
These added jobs while I'm rebuilding her dental lamp with LEDs to make it brighter with less power. She uses it to look into her rock saw.
---
16 March, Kelowna
I have been spending lots of time lately, aside from material things, working on website development.
Here you can see some of the results that many hours of study, imagination, frustration, trial and error have finally produced. Now there are extensive thoughts and quotations buried behind [click for more] links; email addresses and personal information hidden from harvesting by automated bots of all kinds (contact link top-left); and enlargements that fill the screen (rainbow above) just a click away and disappear with just another click. I also wrote and expanded the code that posts the time until and since events as used for my travel sometimes published near the top of my home page. All this done by researching the developments of the Internet and writing new unique code specialized for the sites and instances I design (and available to anyone as is the nature of the World Wide Web). I'll likely polish the results and expand the capabilities for wider application, but for now it looks ready for prime time. There remain unresolved issues but hopefully they won't interfere too much and will be fixed later.
---
24 ... February, Kelowna
I needed a light for my workbench, so I made one! As with most of my first tries there is a glitch. The diodes get so hot they begin to flicker. Now I have ordered heatsinks and resistors to dissipate the heat and reduce the voltage across them. While waiting for the parts to arrive I decided to make a heatsink from 3/4 inch copper pipe coupling. It works well but I need to also reduce the voltage with resistors. So I wait.
---
16 February, Kelowna
Although I sometimes eat them, I tend to avoid foods that state they are "Gluten Free", as I believe such claims on food products promote misunderstanding and cultivate ignorance of good dietary behavior. Why is gluten promoted as undesirable? I have lived all my life with wheat as a significant part of my diet. With more than 70 years of living behind me, I believe it has provided my body with much of the nourishment required. I still enjoy a breakfast with shredded wheat and milk.
As with any food that is an allergy or unhealthy for some, the people who must avoid such things should know how to choose the food good for them. The promotion of fad phrases on products is not a safe method of selection to meet their needs, but is merely employed to promote sales among the followers of pop culture and the ignorant.
My mother taught me to select as great a variety of healthy foods as possible. I believe my body has benefitted from this and my health is quite good for a person of my age.
---
11 February, Kelowna
While the Heavenly Breezes that fill my sails and propel me in my travels abroad and energize my activities with foreign cultures are calm, I sit in the spiritual doldrums and take this opportunity to develop a better awareness of the influences of those around me and try to find ways of suitable engagement with meeting the needs of local life.
The oriental atmosphere of social activities that I have enjoyed for the past 12 years has become enveloped in a dense fog and I can't find any way to plan for future activities, so my next trip will be simply a visit with my son Robert and his wife Karina in Japan (through China). I'm still wondering what to do with the couple of weeks I'll be in China.
Meanwhile, I am continuing with the work around home. I completed of the wiring for lighting and powering the machines in Lindea's workshop. I'm also learning and applying the programming required to create new methods of showing images and videos on the websites I manage.
---
4 February, Kelowna
There were a few technical issues that bothered me with the structure of the tumbler.
I felt the welding of the spring to the flex collars on the shaft reduced it's integrity and added unnecessary torque load to the spring making premature failure likely. I also was concerned that the upper shaft needed a collar to limit the vertical range of motion at the upper bearing.
I redesigned the joint using a new encasing spring and bent it above and below the split collars to secure it's position, leaving the spring merely to stabilize the alignment of the split collars and secure the assembly. I also added grease to extend the serviceable life of the joint and installed the upper collar near the bearing of the shaft.
Now time and use will tell if the machine is durable and serviceable.
---
2 February, Kelowna
Successfully installed the working vibrating rock tumbler that I made for Lindea.
---
21 December-18 January, Kelowna-Arizona-Kelowna
The winter trip to Arizona in a few pictures
---
1 January 2016
The beginning of a new Gregorian year.